Tag Archives:
e!online
OK, this is just plain adorable.
Not only did Lisa Edelstein tear up while talking about the recent outpouring of fan love via our Tater Top Awards (I saw it up close—a real tear!), she tells one heck of a funny story regarding this scandalous paparrazzi photo you can see right here: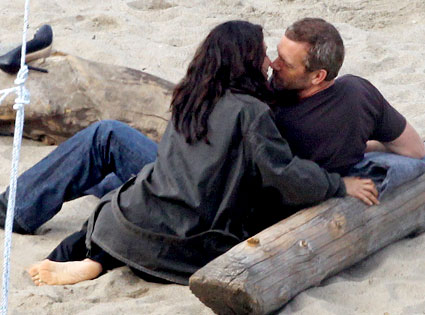 Turns out Lisa's own mother saw the revealing photo of Lisa and Hugh Laurie making out on a beach and was a bit miffed Lisa didn't tell her own mother about her "new boyfriend." Ha!
You fans know this steamy and sandy makeout sesh was actually for the upcoming season of Fox's hit series House, in which, Lisa and costar Jesse Spencer confirm, House and Cuddy are a real couple—happy and everything!
So is there any chance Lisa and Hugh are really dating? And what else can Jesse and Lisa tell us about their romantic endeavors this season? Can "Huddy" last?
E!Online
– Wywiad z Lisą Edelstein